120,000 children have lost their parents due to the COVID-19 pandemic
(NEW YORK) — A new study suggests the number of U.S. children orphaned during the COVID-19 pandemic may be greater than previously thought, and the toll among blacks and Hispanics was far greater.
More than half of the children who lost their primary caregiver during the pandemic belonged to these two racial groups, which make up about 40% of the US population, according to a study published Thursday by the medical journal Pediatrics.
"These results really highlight those children who have become the most vulnerable due to the pandemic and who should be targeted with additional resources," said one of the authors of the study, Dr. J. Alexandra Blenkinsop from Imperial College London said in a statement. .
The study found that in the 15 months of the nearly 19-month COVID-19 pandemic, more than 120,000 U.S. children have lost parents or grandparents who were a major provider of financial support and care. An additional 22,000 children experienced the death of a secondary caregiver, such as grandparents who provided housing but did not meet the child's other basic needs.
In many cases, surviving parents or other relatives stayed behind to provide for these children. But the researchers used the term "orphanhood" in their study, trying to estimate how many children's lives were turned upside down.
Federal statistics are not yet available on how many children in the US were placed in foster care last year. Researchers estimate that COVID-19 has led to a 15% increase in the number of orphans.
The new study's numbers are based on statistical modeling that uses birth rates, death statistics, and household composition data to make estimates.
As of February 2021, approximately 40,000 children in the US have lost parents to COVID-19, according to an earlier study by various researchers.
The results of the two studies do not contradict each other, said Ashton Verdery, author of the earlier study. Verderi and colleagues focused on a shorter time frame than in the new study. The Verderi group also only focused on the deaths of the parents, while the new article also reflects what happened to the grandparents who looked after the children.
"It's very important to understand the loss of grandparents," Verderi, a Penn State researcher, said in an email. "Many children live with grandparents", which is more common among certain racial groups.
About 32% of all children who lost their primary caregiver were Hispanic, and 26% were black. Hispanics and blacks make up a much smaller percentage of the population. White children make up 35% of children who have lost primary caregivers, even though more than half of the population is white.
In some states, the differences were much more pronounced. In California, 67% of children who lost primary caregivers were Hispanics. The study found that in Mississippi, 57% of children who lost primary caregivers were black.
The new study based its calculations on excess deaths, or deaths above what might be considered typical. Most of these deaths were caused by the coronavirus, but the pandemic has also led to more deaths from other reasons.
Kate Kelly, a teenager from Georgia, lost her 54-year-old father in January. William "Ed" Kelly had difficulty breathing, she said, and the emergency clinic suspected it was related to COVID-19. But it turned out that his artery was clogged, and he died at work from a heart attack, leaving Kate, her two sisters and her mother.
In the first month after his death, friends and neighbors brought food, made donations and were very supportive. But after that, it seemed like everyone was gone except for Kate and her family.
"There didn't seem to be any help," said the Lilburn senior.
___
The Associated Press Department of Health and Science receives support from the Howard Hughes Medical Institute Department of Science Education. AP is solely responsible for all content.
More must-read content from TIME
---
May 23: CBS Evening News – CBS News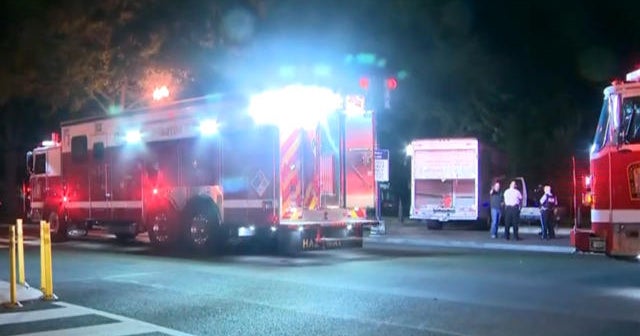 Suspect charged after crashing U-Haul near White House; Oakland Mayor Sheng Thao's unlikely journey
After three months at the hospice, Jimmy Carter appreciates the tribute and ice cream
NORCROSS, Georgia — Three months after being admitted to a nursing home, former President Jimmy Carter remains in good spirits visiting family, following public discussions of his legacy, and receiving updates on the Carter Center's humanitarian efforts around the world. says his grandson. He even enjoys regular servings of ice cream.
"Now they're just going out with the family, but they're doing it in the best possible way: the two of them at home," Jason Carter said of Jimmy and Rosalynn Carter, now 98 and 95.
"They were together 70 plus years. They also know they're not in charge," the younger Carter said in a brief interview Tuesday. "Their faith is really growing at the moment. So it's as good as it gets."
Longest-lived US President Jimmy Carter announced in February that, after a series of short hospitalizations, he would refuse further medical attention and spend the rest of his life in the same modest one-story house in Plains where they lived when he was first elected to the State Senate in 1962. No sickness. what is revealed.
Current tributes
The announcement of the hospice's departure prompted continued tribute and media attention to his 1977-81 presidency and the global humanitarian work the couple had done since the founding of the Carter Center in 1982.
"It's been one of the blessings of the last few months," Jason Carter said after speaking Tuesday at an event honoring his grandfather. "He will certainly see the outpouring, and it certainly gave him pleasure."
The former president also receives updates on the Carter Center. Guinea worm eradication The program was launched in the mid-1980s when millions of people were affected by parasites spread through unclean drinking water. There were less than two dozen cases in the world last year.
And in less serious moments, he also continues to enjoy peanut butter ice cream, his favorite flavor, in keeping with his political brand of peanut farmer, his grandson said.
Carter's legacy
Andrew Young, who served as Carter's ambassador to the UN, told the AP that he, too, visited the Carters "a few weeks ago" and was "very happy that we can laugh and joke about the old days."
Young and Jason Carter joined other friends and fans Tuesday for the former president's celebration on Jimmy Carter Boulevard in suburban Norcross, northeast of Atlanta. Young said the setting – in one of the most racially and ethnically diverse suburbs in America – reflects the former president's broader legacy as a man who sought peace, conflict resolution and racial justice.
When the nearly 10-mile highway in Gwinnett County was renamed in 1976—the year he was elected president—the small towns and bedroom communities on the outskirts of metropolitan Atlanta were just beginning to boom. Now Gwinnett alone has a population of about 1 million, and Jimmy Carter Boulevard is thriving, with many businesses owned by black owners, immigrants, or first-generation Americans.
Young, a top aide to the Reverend Martin Luther King Jr. during the Civil Rights Movement, said Carter started out as a white South Georgia politician during Jim Crow segregation, but he proved his values ​​were different.
As governor and president, Carter believed that "peace can come to Georgia and show everyone how to live together," Young said.
Now Georgia "looks like the whole world," said Young, 91.
Nicole Love Hendrickson, elected in 2020 as the first black chair of the Gwinnett County Board of Commissioners, praised Carter as "a person who shows exceptional respect for the humanity of others."
Reassessment of the past
Referring to Carter's crushing re-election defeat, Young said he personally enjoyed how historians and others found success stories when they re-evaluated the Carter presidency – ceding control of the Panama Canal, developing a national energy strategy, getting involved in Africa more than anyone. another US president. . Such advances were either unpopular at the time or were overshadowed by Carter's failure to curb inflation, alleviate energy crises, or release American hostages in Iran before the 1980 election.
"I told him, 'You know, it took you over 50 years to appreciate President Lincoln. It can take a long time to evaluate you," Young said.
"No one thought about the Panama Canal. It would never have occurred to anyone to unite Egypt and Israel. I mean, I thought about trying to do something in Africa, but no one else in Washington did it, and they did it. He always had an idea for everything."
However, when Jason Carter addressed fans of his grandparents on Tuesday, he objected to thinking of them as global celebrities.
"They're just like all your grandparents – I mean, to the extent that your grandparents are rednecks from South Georgia," he said with a laugh. "If you go there even today, they have a little counter next to the sink where they dry Ziplock bags."
Jason Carter said that the most remarkable thing is that such a meeting took place while his grandfather was still alive.
"We really thought that when he got into hospice, it was very close to the end," he told those present. "Now I just want to tell you that he will be 99 in October."
The battle for Mosul is over, but this hidden danger of ISIS may be lurking for years
MARCIA BIGGS:
Former commander of coalition forces in Iraq, Lieutenant General Stephen Townsend, recently listed 81 locations where bombs had been dropped but had not yet exploded.
Facilities used to manufacture weapons were often on the list of important targets for the coalition. So now these places are twice as likely to contain dangerous items.
So, once it was a workshop for electrical engineering students. You can still see the lab tables here. In 2015, it was hit by an airstrike. After that, university staff found instructions for making a bomb among the wreckage. It was most likely an ISIS bomb factory and, judging by the crater, a very valuable target.
Despite the damage, Dean Alubaidi says he will be holding classes in other buildings this fall until the campus is ready. He expects enrollment to be in the thousands of students who lost three years of schooling during the fighting and don't want to lose another.