Elizabeth Warren Says Fed Chair 'Failed', Calls for Investigation into Bank Failure | Bank of Silicon Valley
The political fallout from the collapse of Silicon Valley Bank in the US continued on Sunday, with left-wing Senator Elizabeth Warren appearing on morning talk shows and repeatedly calling for an independent investigation into US bank failures and scathingly criticizing Federal Reserve financial officials.
A progressive Democrat from Massachusetts, who positions himself as a consumer advocate and a sharp critic of the US banking system, told CBS Face the Nation that he does not trust San Francisco Federal Reserve President Mary Daly or Fed Chairman Jerome Powell.
"We need accountability for our regulators who have clearly failed to do their job," Warren said, adding that it "begins with" Federal Reserve Chairman Jerome Powell, who she said "was a dangerous person in that position." .
"Remember that the Federal Reserve Bank and Jerome Powell have full responsibility for the oversight and supervision of these banks. And they have made it clear that they see it as their job to ease the rules for these banks. Now we are seeing the consequences," Warren added.
Asked if she "believes" in Daley, under whose jurisdiction the SVB was, Warren categorically replied, "No, I don't."
Since the collapse of Silicon Valley and the Signature banks, the former presidential candidate has launched a massive offensive in recent days against politicians on both the left and right who supported the deregulation of small US banks during the Trump era.
Warren sent letter inspectors general of the US Treasury Department, the Federal Deposit Insurance Corporation (FDIC), and the Federal Reserve, urging regulators to look into the recent management and oversight of banks that collapsed earlier this month.
Warren unveiled legislation last week that would repeal the law and raise "stress tests" for "too big to fail" banks from $50 billion to $250 billion. On Sunday, Warren also advocated raising federal guarantees on consumer deposits above the current $250,000.
"Is it $2 million? Is it 5 million dollars? Is it 10 million dollars? Small businesses should be able to count on getting their money to pay salaries, pay utility bills," Warren said. "These are not people who can research the safety and soundness of their individual banks. This is the job that regulators should be doing."
Warren expanded on her criticism on NBC's Meet the Press, calling for a halt to interest rate hikes when central banks meet next week and saying Congress pushed Powell to support deregulation in 2018.
"Look, my views on Jay Powell are now well known. He had two jobs. One of them concerns monetary policy. One of them is to deal with regulation. He failed at both," she said.
US prosecutors are investigating the collapse of SVB, a source familiar with the matter told Reuters last week after the $212 billion bank collapsed as depositors rushed to withdraw their money.
The blame game began, with some arguing that the bank's apparent lack of proper risk management, coupled with deregulation and soaring interest rates, led to the unfortunate event that was to come.
US banks have since lost about half a trillion dollars in value. On Friday, President Joe Biden promised that bank customer deposits were safe and the crisis had subsided.
In Warren's letter, released Sunday, the senator also urged executives of bankrupt banks to be held accountable.
"Bank leaders who took unnecessary risks or failed to hedge against predictable threats should be held accountable for these failures," Warren said. "But this mismanagement was allowed due to a series of mistakes on the part of legislators and regulators."
Asian stocks fall after Credit Suisse takeover
BEIJING– Asian stock markets tumbled on Monday after Swiss authorities orchestrated a takeover of troubled Credit Suisse amid fears of a global banking crisis ahead of a Federal Reserve meeting to decide on further potential rate hikes.
Shanghai, Tokyo and Hong Kong refused. Oil prices retreated.
Swiss authorities on Sunday announced that UBS would acquire its smaller competitor as regulators try to ease fears about banks following the collapse of two US lenders. Central banks announced a coordinated effort to stabilize the situation with creditors, including the possibility of borrowing US dollars if necessary.
Investors fear that banks will burst due to unexpectedly fast and large interest rate hikes over the past year aimed at reducing economic activity and inflation. This caused the prices of bonds and other assets to drop on their ledgers, causing concern about the financial health of the industry.
"Investors are waiting for the dust to settle in the banking saga before taking any bold steps," Stephen Innes of SPI Asset Management said in a report.
The Hang Seng in Hong Kong shed 2.8% to hit 18,967.52 and the Nikkei 225 in Tokyo shed 1.2% to hit 26,990.25.
The Shanghai Composite lost less than 0.1% to 3247.41 after China's central bank freed up more money for lending on Friday, cutting the amount of money businesses must keep in reserve.
Kospi fell 0.6% to 2382.03 in Seoul and S in SydneyThe &P-ASX 200 lost 1.4% to 6900.00.
The Indian Sensex opened down 1.1% to 57,341.79. Markets in New Zealand and Southeast Asia also declined.
The Swiss government said UBS would acquire Credit Suisse for nearly $3.25 billion after the troubled lender's plan to borrow up to $54 billion from the Swiss central bank did not reassure investors and customers.
US regulators have also sought to allay concerns about threats to banking systems. The Federal Reserve said cash-strapped banks borrowed about $300 billion from the Federal Reserve in the week to Thursday.
Separately, New York Community Bank agreed to buy a significant stake in failed Signature Bank in a $2.7 billion deal, the Federal Deposit Insurance Corporation said. said at the end of Sunday. The FDIC said the $60 billion in Signature Bank loans will remain in receivership and are expected to be sold on time.
Concerns remain about other lenders with shaky finances. Credit Suisse is one of the 30 institutions known as globally systemically important banks. Ahead of the takeover, Wall Street's benchmark pThe &P 500 lost 1.1% on Friday to 3916.64.
Shares of First Republic Bank fell nearly 33%, bringing their weekly decline to 71.8%.
The Dow Jones industrial index lost 1.2% to 31,861.98 points. The Nasdaq composite index fell 0.7% to 11,630.51 points.
Unexpectedly large and rapid rate hikes by the Fed and other central banks to reduce inflation, which is close to multi-year highs, have sent bond and other asset prices down on their books.
Traders expect last week's turmoil to push the Fed to cap its rate hike at this week's meeting to 0.25 percentage points. This will be the same as the previous increase and half as much as margin traders previously expected.
A survey released on Friday by the University of Michigan showed that US consumer inflation expectations are declining. This is important for the Fed, which said such expectations can fuel virtuous and vicious circles.
In energy markets, US benchmark oil fell 55 cents to $66.19 in electronic trading on the New York Mercantile Exchange. The contract fell $1.61 on Friday to $66.74. Brent crude, the benchmark price for international crude, fell 65 cents to $72.32 a barrel in London. It fell $1.73 to $72.97 in the previous session.
The dollar rose to 131.83 yen from 131.67 yen on Friday. The euro fell to $1.0676 from $1.0681.
Putin visited Russian-occupied Mariupol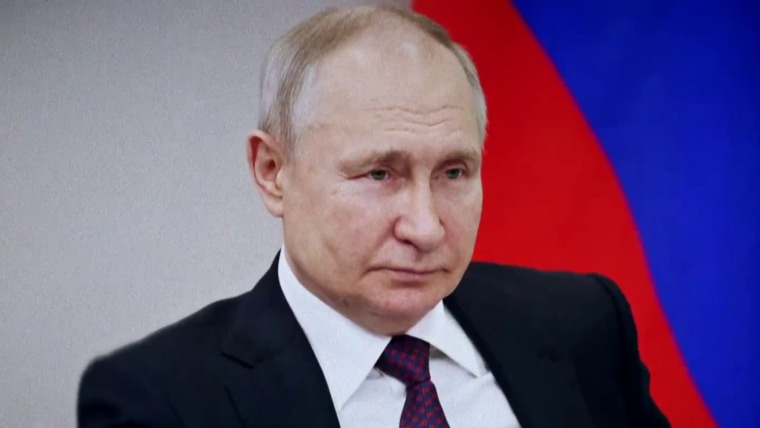 IE 11 is not supported. For the best experience, visit our site in a different browser.
7-year-old boy becomes 'real superhero' by donating bone marrow to older brother

02:13

Study reveals alarming history of negative health outcomes for black pregnant women

03:09

Los Angeles weatherman recovers from passing out during morning newscast

01:59

Miami Beach declares state of emergency after shooting

01:57

UBS agrees to buy Credit Suisse for more than $3 billion

01:42

New witness to testify before grand jury in Trump's silence money case

02:18

Now playing

Putin visited Russian-occupied Mariupol

02:50

NEXT

Touching stories this week

03:20

Street racing incidents skyrocket in US

02:44

Chaos in Paris as protesters clash with police

01:38

Deadly earthquake rocked Ecuador

01:30

Putin visited Crimea on the anniversary of the annexation of Ukraine

01:01

Adult film star Stormy Daniels at the center of former President Trump investigation

01:42

Trump Predicts Fraud Arrest, Calls for Protests

03:30

DOJ and FBI investigate TikTok parent company ByteDance

01:35

Heavy rain in California eases historic drought

01:27

New evidence suggests raccoon dogs are linked to the origin of Covid-19

01:43

Great-grandmother was kidnapped in Mexico and demanded a ransom

01:36

New York law enforcement prepares for possible indictment of Trump

02:09

Biden steps up pressure on bank executives

01:39
NEXT

7-year-old boy becomes 'real superhero' by donating bone marrow to older brother

02:13

Study reveals alarming history of negative health outcomes for black pregnant women

03:09

Los Angeles weatherman recovers from passing out during morning newscast

01:59

Miami Beach declares state of emergency after shooting

01:57

UBS agrees to buy Credit Suisse for more than $3 billion

01:42

New witness to testify before grand jury in Trump's silence money case

02:18
Banking giant UBS acquires smaller competitor Credit Suisse to avoid market turmoil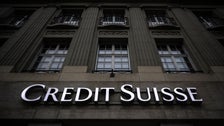 GENEVA, Switzerland (AP) — Banking giant UBS is buying its smaller competitor Credit Suisse to avoid further turmoil in the global banking market, Swiss President Alain Berset said Sunday night.
Berset, who did not elaborate on the value of the deal, called the announcement "very broad for the stability of international finance." The uncontrolled collapse of Credit Suisse will have unintended consequences for the country and the international financial system."
The Swiss president said the council agreed to guarantee a total of 150 billion francs liquidity for the 167-year-old bank, far exceeding the 50 billion (54 million Swiss francs) figure that was announced publicly. But this was not enough.
"We noted that liquidity outflows and market volatility have demonstrated that the necessary confidence can no longer be restored and a quick solution is needed to ensure stability."
Swiss Finance Minister Karin Keller-Sutter said the board "regrets that a bank that was once a model institution in Switzerland and part of our strong position could even get into this situation."
The combination of two of the largest and most famous Swiss banks, each with a storied history dating back to the mid-19th century, is like a thunderbolt on Switzerland's reputation as a world financial center, leaving it on the cusp of a single national champion. to banks. Part of the trouble that Credit Suisse has faced in recent years stems from a spy scandal that was commissioned by its executives to spy on a former colleague who defected to UBS.
Berset said the Federal Council – Switzerland's executive branch – has already been discussing Credit Suisse's long-standing difficult situation since the start of the year and has held emergency meetings over the past four days amid growing concerns about its financial condition, causing major swoons in Switzerland. its stock price and sparked the specter of the financial crisis of 2007-2008.
Credit Suisse has been designated by the Financial Stability Board, the international body that oversees the global financial system, as one of the world's systemically important banks. This means that regulators believe that its uncontrolled collapse will lead to unrest throughout the financial system, similar to the collapse of Lehman Brothers 15 years ago.
Many from Credit Suisse problems are unique and do not intersect with the weaknesses that led to the collapse of Silicon Valley Bank and Signature Bank, whose failures led to significant rescue efforts Federal Deposit Insurance Corporation and Federal Reserve. As a result, their decline does not necessarily signal the onset of a financial crisis like the one that occurred in 2008.
The deal ends a highly volatile week for Credit Suisse. especially on wednesday when its shares fell to a record low after its biggest investor, the National Bank of Saudi Arabia, said it would no longer invest in the bank to avoid violating rules that would come into effect if its stake rose by about 10%. .
On Friday, shares fell 8% to close at 1.86 francs ($2) on the Swiss exchange. The shares have suffered a long decline: in 2007 they traded at over 80 francs.
The current problems began after Credit Suisse said on Tuesday that managers had identified "materials" in the bank's internal control system for financial statements as of the end of last year. This fanned fears that Credit Suisse would be the next domino.
Although Credit Suisse is smaller than its Swiss rival UBS, it still wields significant influence, managing $1.4 trillion in assets. The firm has significant sales teams around the world, serves the rich and wealthy through its wealth management business, and is the principal M&A advisor to global companies. Notably, Credit Suisse did not need government bailouts in 2008 during the financial crisis, while UBS did.
ECB President Christine Lagarde said that during the financial crisis, banks "are in a very different position compared to 2008", partly because of more stringent government regulation.