On this historic day, May 18, 1980, Mount St. Helens erupted, causing the largest landslide in human history.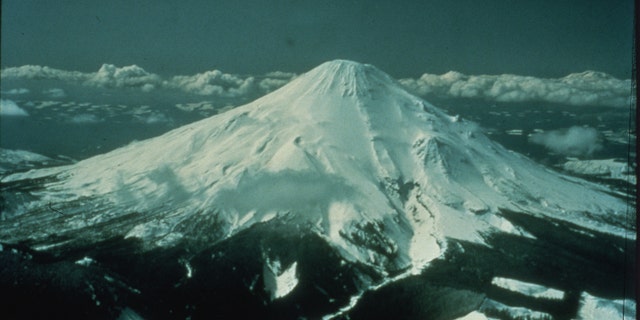 On this day, May 18, 1980, Mount St. Helens in Washington erupted for nine hours, killing 57 people and triggering the largest landslide in human history.
Mount St. Helens was at 9,677 feet before the eruption, according to the US Geological Survey (USGS) website. It was the fifth highest mountain in the state of Washington.
"However, it stood out beautifully from the surrounding hills, because it towered thousands of feet above them and had a perennial cover of ice and snow," the site says.
ON THIS DAY IN HISTORY, MAY 16, 1986, TOM CRUISE THE MOST COLD WAR BLOCKBUSTER 'TOP GUN' SHOOTS ON A SILVER SCREEN
That changed on May 18, when the volcano erupted for the first time in more than a century, according to the USGS.
When the dust literally and figuratively settled after the eruption, Mount St. Helens was found to have lost approximately 1,300 feet from its cone.
Instead, a horseshoe-shaped crater formed in its place, according to the USGS.
The highest point of the crater, located on the southwest side of the mountain, is 8,365 feet, according to the website.
According to the US Geological Survey, the eruption occurred almost exactly two months after seismic activity began on the long dormant volcano.
On March 16, 1980, a "series of small earthquakes" began to shake the area. Eleven days later, on March 27, after hundreds of small earthquakes, Mount St. Helens experienced a relatively small eruption, the first since 1857.
ON THIS HISTORIC DAY, MAY 15 6:00 PM, PRESIDENT ADAMS MOVES THE FEDERAL GOVERNMENT FROM PHILADELPHIA TO THE D.C.
During this eruption, "explosions of steam created a 60 to 75 m (200 to 250 ft) wide crater in the volcano's ice cap and covered the snow-covered southeast sector in dark ash," the USGS said.
These eruptions continued until April 22, according to the US Geological Survey.
After a roughly two-week halt in volcanic activity, smaller eruptions and earthquakes continued from May 7 to 17.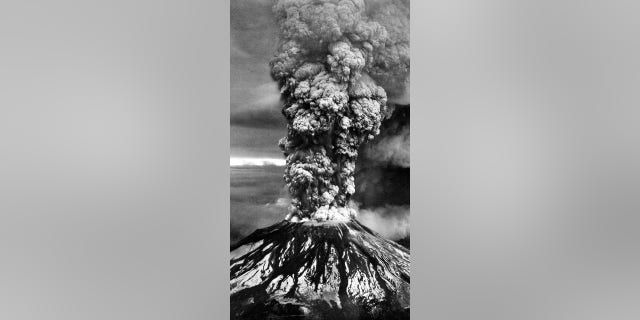 "By that time, more than 10,000 earthquakes had rocked the volcano, and the northern slope had risen by about 140 m (450 ft), forming a noticeable bulge," the USGS said.
This bulge was "strong evidence that the molten rock (magma) had risen high into the volcano" and was growing at a rate of up to five feet a day.
ON THIS HISTORIC DAY, AUGUST 25, 1916, THE NATIONAL PARK SERVICE IS ESTABLISHED UNDER PRESIDENT WILSON
At 8:32 a.m. on May 18, a magnitude 5.1 earthquake "without immediate warning" struck Mount St. Helens, setting off a "rapid series of events," the USGS said.
"At the same time as the earthquake hit, the northern bulge and the top of the volcano slid off in a huge landslide — the largest avalanche of debris on Earth in the history of mankind," they said.
"A small, dark, ash-rich plume of eruption rose directly from the base of the debris avalanche ledge, and another from a summit crater rose about 200 m (650 ft) high," they said.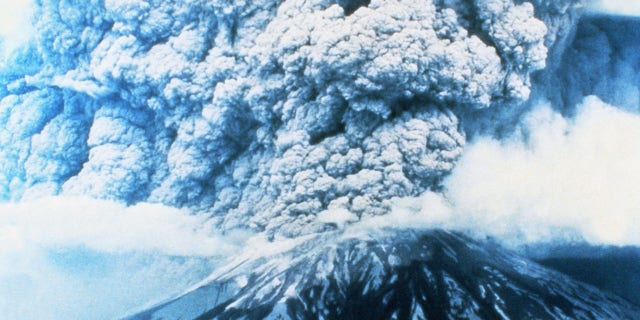 The USGS added that the volume of the avalanche is equivalent to one million Olympic pools.
After the landslide, the destruction continued.
The landslide removed part of the "cryptodome," which was a "very hot and highly pressurized body of magma," the USGS said.
After the removal of the kiptomol, Mount St. Helens' magma system depressurized, causing "powerful eruptions that swept through the sliding debris," knocking the mountain down 1,000 feet.
AMERICA THE BEAUTIFUL: 50 SITES THAT TELL OUR NATIONAL STORY
The cloud of tephra, or rock fragments, reached 15 miles in 15 minutes, the USGS notes.
The effects of the initial eruption were devastating.
"Virtually no trees remain of what was once dense forest" within a six-mile radius of the former summit, and other trees were knocked to the ground and burned, the USGS said.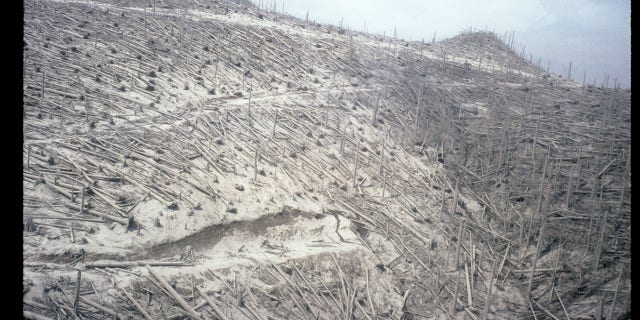 "The destroyed area of ​​600 km2 (230 miles) was covered with a deposit of hot debris brought by the explosion," the report said.
The eruption then became a "Plinian eruption," defined as "an eruption that produces a sustained convection plume of pyroclasts and gas rising more than 25 km above sea level," the Science Direct website says.
ON THIS HISTORIC DAY, MARCH 1, 1872, THE MAGNIFICENT YELLOWSTONE BECOMES THE FIRST NATIONAL PARK IN AMERICA
The Plinian eruption lasted nine hours, throwing 520 million tons of ash into the air.
The ash was so thick that the city of Spokane, Washington, located 250 miles from Mount St. Helens, plunged into total darkness, the USGS said.
At the time, Getty reported that over four inches of ash covered Yakima, Washington.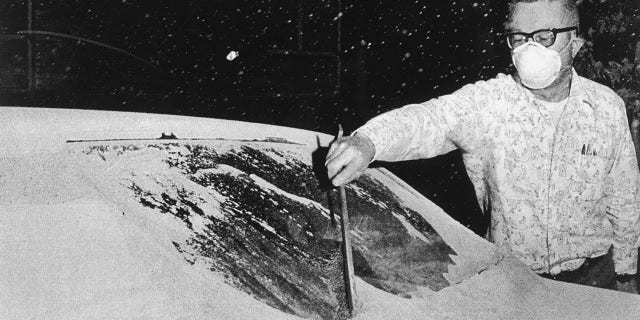 "Large ash falls have occurred as far away as central Montana, with ash falling noticeably east as far as the Great Plains in the central United States, over 1,500 km (930 miles) away," the USGS said in a statement.
"The ash cloud spread across the US in three days and orbited the Earth in 15 days."
ON THIS DAY IN HISTORY, JANUARY. November 28, 1986, the Space Shuttle Challenger EXPLODES, SHOCKING THE NATION
The explosion also caused something called a "lahar," which is "an Indonesian term for a hot or cold mixture of water and rock debris that flows down the slopes of a volcano and usually ends up in a river valley," the USGS said in a statement.
In the case of Mount St. Helens, the snow peak melted during the initial eruption.
This rush of water, combined with the rock flow, created the lahar.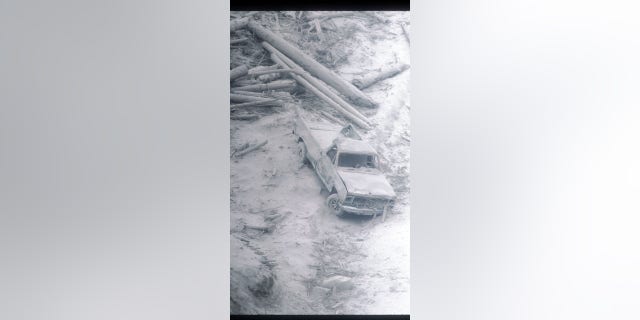 According to an article in American Scientist, in the weeks leading up to May 18, people living near Mount St. Helens were evacuated.
The area immediately surrounding Mount St. Helens was divided into a "red zone" and a "blue zone".
Of the 57 people who died in the eruption, only one – Harry Randall Truman – did not have special permission to be near the mountain on the day of the eruption, and most of the deaths actually occurred outside the blue zone, American Scientist notes. .
CLICK HERE TO SUBSCRIBE TO OUR LIFESTYLE INFORMATION
Truman, an 83-year-old man who lived near Mount St. Helens for 54 years, refused to comply with the evacuation order and leave the red zone.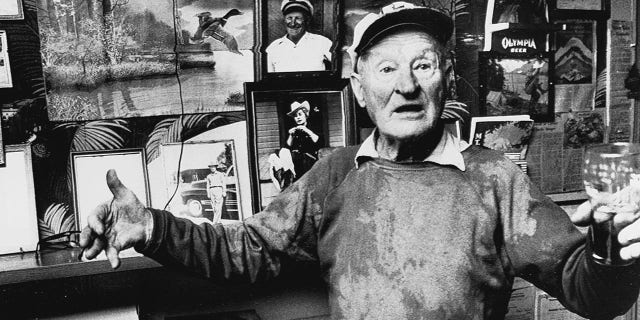 In a colorful National Geographic interview before the eruption, Truman said, "I'll stay here because I'll tell you why, my home and my (expletive) life is here."
"My wife and I swore years ago that we would never leave Spirit Lake. We liked it. It is a part of me and I am a part of this (abusive) mountain," he said.
CLICK HERE TO GET THE FOX NEWS APP
Truman's remains have never been found.
Biden's 2024 campaign sees multiple 'viable paths' to win 2024 election
WASHINGTON– WASHINGTON (AP) — President Joe Biden's campaign promises to hold onto the states that won him the White House in 2020, but also compete in the places he lost, like Republican-dominated North Carolina and Florida, providing, as they say, " number of viable paths to 270 electoral votes" needed to reach another four years.
Offering her first extensive commentary on strategy since she was named Biden's campaign manager last month, Julie Chavez Rodriguez wrote in a memo to "stakeholders" that the 2024 presidential race presents "significant opportunities to boost Democratic support." It was released while Biden was touring Japan, but it is skipping previously scheduled follow-up stops in Australia and Papua New Guinea to focus on debt-limit talks in Washington.
Rodriguez said the re-election campaign is planning early investments to try to keep states won by Biden in 2020, including Michigan, Wisconsin, Pennsylvania, Nevada and New Hampshire, as well as keep Georgia and Arizona, which have not voted Democratic in the presidency for decades. race. up to three years ago.
But the campaign will also "focus on expanding the map even further in states like North Carolina and Florida," and Rodriguez said both will be included in a "seven-figure" promotional purchase that includes investments in a number of swing states.
Biden's re-election campaign is built around asking Americans to let him "finish the job" he started and sought to portray "extremely minded" Republicans like former President Donald Trump and supporters of his Make America Great Again movement as a threat. Central Americans. political values.
Trump is seeking the White House for the third time, and while Rodriguez's memo does not mention him by name, it predicts that Biden will "once again take over the extremist MAGA agenda."
Biden's political advisers have long argued that Biden defeated Trump once and could do it again. If someone else nominates the Republican Party for President, like the governor of Florida. Seen by many as the top alternative to Trump, Ron DeSantis, the Biden team argues that the same strategy could work as most leading Republicans have done little to distance themselves from the MAGA movement.
While Rodriguez's memo doesn't mention it, pitting Biden against his opponent may be the president's most powerful re-election tactic. A poll by the Associated Press and the NORC Public Affairs Research Center last month found that only about half of Democrats thought Biden, 80, should run again, although 81% said they were at least likely to support him in the 2024 general election if he is a candidate.
The memo said the re-election campaign plans to spread its message online and through face-to-face contact with voters, but will rely heavily on leveraging existing voter social networks.
"While trust in the media may be undermined, trust in people's personal connections has never been stronger," Rodriguez wrote. She vowed that the campaign would engage "early and often" with its traditional core female supporters, as well as black, Hispanic and Asian American voters, and young people who did not show up for the 2022 midterm elections. The memo also states that organized labor "will be the backbone of our electoral success."
Biden's re-election campaign says it plans to try to make headway with targeted voters during next year's race. This includes a foothold for 2020, when Biden "saw a small but critical success among rural voters and working-class white voters in battlefield states." , Pennsylvania, Nevada, and Wisconsin, and remain unchanged in Georgia and North Carolina."
The memo said strong suburban support helped Biden rise to the 306 electoral votes he received in 2020, and there may be room for growth among those voters that could be encouraged by the Supreme Court's overturning of Roe v. USA. Wade's decision.
The National Democrats remain strongly behind Biden. In the presidential primaries, he faces only token opposition from self-help author Marianne Williamson and anti-vaccination activist Robert Kennedy Jr. This means, Chávez wrote, that the re-election campaign "has been able to use the party's infrastructure from day one, including tools, technology and people, which means we're not starting from scratch."
Israeli Authorities Prepare for Violence Ahead of Flag March in Jerusalem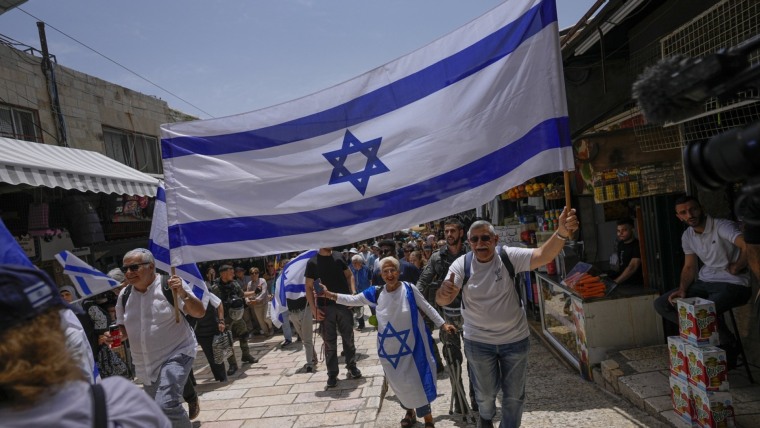 IE 11 is not supported. For the best experience, visit our site in a different browser.
Israeli Authorities Prepare for Violence Ahead of Flag March in Jerusalem

02:46

NEXT

Florida Gov. Ron DeSantis Signs 4 Bills Restricting LGBTQ+ Rights

03:41

The House of Representatives sends Representative George Santos to the ethics committee in connection with allegations of fraud.

03:49

Biden confident debt ceiling deal will be reached

05:32

Larrisa Fasthorse became the first Native American woman to perform on Broadway.

04:08

Kentucky AG Daniel Cameron will meet with the Governor. Andy Beshear in the state gubernatorial race

04:07

The high death rate among black Americans was responsible for 1.63 million additional deaths over two decades.

03:58

Twitter CEO Elon Musk spoke about conspiracy theories in an interview with CNBC.

02:25

Supreme Court to hear case over access to documents linked to Trump's Washington hotel

04:18

New Polls Show Kentucky AG Cameron Leads in GOP Primary for Governor

02:26

UN to mark 75th anniversary of Palestinian Nakba

03:23

New study may reveal why Lyme disease causes chronic symptoms for some

03:35

What happens now that Title 42 is over?

03:47

How Chicago prepares for the end of Title 42

03:13

Daniel Penny detained by police in connection with the death of Jordan Neely

02:45

CDC tracks cases of drug-resistant ringworm

02:46

What is the difference between Title 42 and Title 8?

03:38

Trump Doubles Down on Fraud Allegations in 2020 During City Hall

04:24

Biden accuses Republicans of "holding the economy hostage" over debt ceiling

03:55

Rep. Santos vows to 'fight witch hunt' after 13-count federal indictment

04:27
Now playing

Israeli Authorities Prepare for Violence Ahead of Flag March in Jerusalem

02:46

NEXT

Florida Gov. Ron DeSantis Signs 4 Bills Restricting LGBTQ+ Rights

03:41

The House of Representatives sends Representative George Santos to the ethics committee in connection with allegations of fraud.

03:49

Biden confident debt ceiling deal will be reached

05:32

Larrisa Fasthorse became the first Native American woman to perform on Broadway.

04:08

Kentucky AG Daniel Cameron will meet with the Governor. Andy Beshear in the state gubernatorial race

04:07
Russia fired rockets at Kyiv and Odessa ahead of Ukraine's long-awaited counteroffensive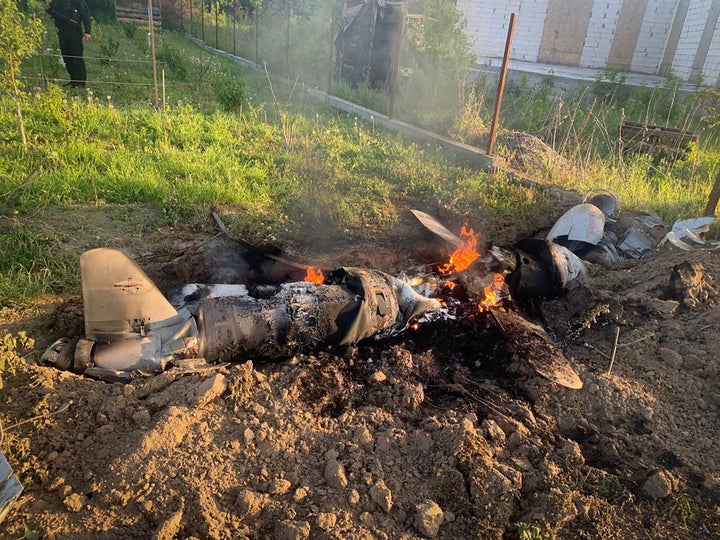 KYIV, Ukraine (AP) — Russia fired 30 cruise missiles at various parts of Ukraine early Thursday in the latest night test of Ukraine's air defense system, shooting down 29 of them, officials said.
One person died and two were injured when a Russian missile hit an industrial building in the south of Odessa, Sergei Bratchuk, a spokesman for the regional military administration, said.
Against the backdrop of increased recent Russian air attacks, China said his special envoy met Ukrainian President Volodymyr Zelensky during talks in Kyiv earlier this week with Ukraine's top diplomat.
Beijing peace proposal so far has not given a clear breakthrough in It wasand Chinese Foreign Ministry spokesman Wang Wenbin said on Thursday that the warring parties need to "accumulate mutual trust" to make progress.
During the talks, Ukrainian officials sought to garner Chinese support for Kyiv's own peace plan, according to the Ukrainian president's office. Zelenskiy's proposal includes restoring his country's territorial integrity, withdrawing Russian troops, and holding Russian President Vladimir Putin legally responsible for the February 2022 invasion.
Meanwhile, Kremlin-appointed authorities in occupied Crimea said eight carriages were derailed by an explosion on Thursday, raising suspicions of possible Ukrainian sabotage behind Russian lines. Russian state media reported that the train was carrying grain.
State news agency RIA Novosti, citing a source in emergency services, said the incident took place near Simferopol. The company of the Crimean railway said that the crash occurred due to "the intervention of unauthorized persons" and that there were no casualties.
Ukrainian officials refuse to comment on possible sabotage. The representative of the military intelligence of Ukraine Andriy Yusov, on the air of Ukrainian television, noted that the Russian railway lines "are also used to transport weapons, ammunition, armored vehicles."
Loud explosions erupted overnight in Kiev as Kremlin forces shelled the capital for the ninth time in a month, in a clear escalation after weeks of silence and ahead of a long-awaited Ukrainian counter-offensive using newly delivered advanced Western weapons.
The debris fell on two districts of Kyiv, causing a fire in the garage complex. The victims have not yet been reported, the head of the Kyiv military administration, Sergei Popko, said in a Telegram message.
Ukraine also shot down two Russian drones and two reconnaissance drones, according to authorities.
The missiles were launched from Russian naval, air and ground bases, Commander-in-Chief of Ukraine General Valeriy Zaluzhny said on Telegram.
According to him, in the period from 21:00 Wednesday to 5:30 am Thursday, several waves of rockets were fired at the territory of Ukraine.
Russian forces used strategic bombers from the Caspian region and apparently fired Soviet-era Kh-101 and Kh-55 missiles, Kiev authorities say. Russia then deployed reconnaissance drones over the capital.
During the last major air attack on Kyiv on Tuesday Ukrainian air defense Officials said that with the support of modern Western systems, all incoming missiles were shot down.
The attack used hypersonic missiles, which Putin has repeatedly touted as providing a key strategic advantage. The missiles, which are among the most advanced weapons in the Russian arsenal, are difficult to detect and intercept due to their hypersonic speed and maneuverability.
But modern Western air defense systems, including US-made Patriot missiles, have helped keep Kyiv safe from the destruction that has been seen along the main front lines in the east and south of the country.
While ground fighting along this front line has largely stalled, both sides are shelling each other's territory with long-range weapons.
The fiercest fighting was centered in the battle for the city of Bakhmut and its environs in Ukraine's eastern Donetsk region, where a Ukrainian military spokesman said on Thursday that the army had advanced 1.7 kilometers (more than a mile) there compared to the previous day.
At the same time, Yevgeny Prigozhin, the millionaire owner of the Russian private military contractor Wagner, whose troops led the battle, said Russian army units had retreated from their positions north of the city. Prigozhin is often critical of the Russian military.
At least seven Ukrainian civilians were killed, including a 5-year-old boy, and 18 people were injured in the previous day, the President's Office said.
In addition, two people were injured in a drone attack in the Kursk region in southern Russia, which borders Ukraine, the region's governor said on Thursday.
In his message on Telegram, Roman Starovoit said that the Ukrainian security forces dropped an explosive device from a drone on a sports and recreation complex.
Yuri Karmanov contributed to this report from Tallinn, Estonia.