The pandemic emergency is over. Social shifts persist.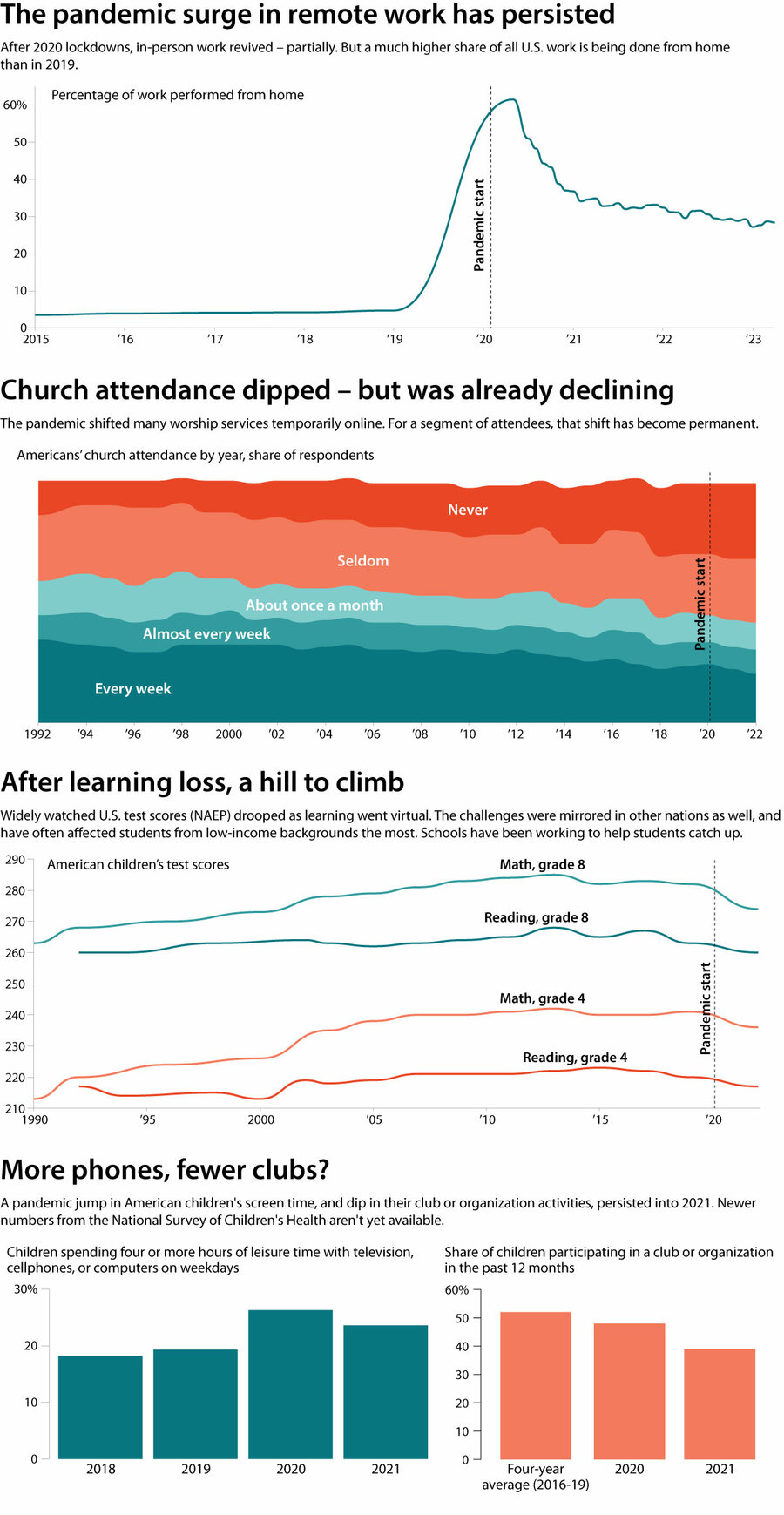 May 11 marked the official end of the COVID-19 public health emergency in the United States, days after a similar announcement from the World Health Organization around the world.
It's not that medical experts say the pandemic itself is over. But disease-related deaths (over 1 million in the US since 2020) have slowed down. Dedicated federal pandemic response resources will be phased out.
In its midst, the pandemic elicited public compassion and government assistance—with concomitant fraud. The current transition leaves behind questions about the causes of the pandemic and how the US and other countries can better prevent pandemics in the future.
Why did we write this
The pandemic health emergency has officially ended. But some of the associated social shifts could be lasting, from working more remotely to increasing screen time for kids.
Broad social changes are also visible, some of which are highlighted in our graphics package here.
The effects were hardly universal. For some people, life has returned to pre-2020 patterns. Others have seen positive changes, such as closer ties with their families. (Predictions about the surge of divorces turned out to be unreasonable.) And most think it is a good thing continue to offer remote options for working or attending social events.
While there is a post-crisis rise in travel this summer, mental health experts are worried about weakening social ties. This concern predates 2020, but recently US Surgeon General Vivek Murthy pointed to its growing urgency by declaring another "epidemic" — loneliness.
"Each of us can start now, in our own lives" to solve this problem, he urged public letter"strengthening our bonds and relationships."
May 12: CBS News Weekender – CBS News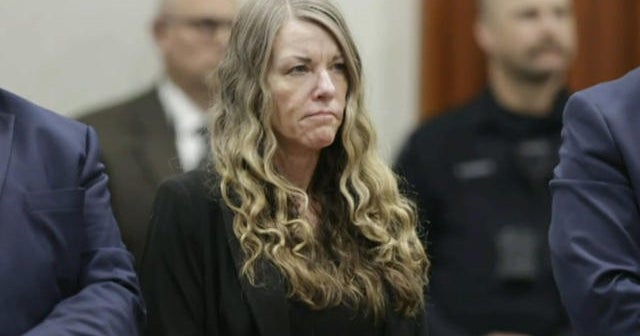 Catherine Herridge reports on an Idaho mother found guilty in the killings of her two children, an update from the border after Title 42 ends, and the top baby names of 2022.
US regulator calls for recall of 67 million airbags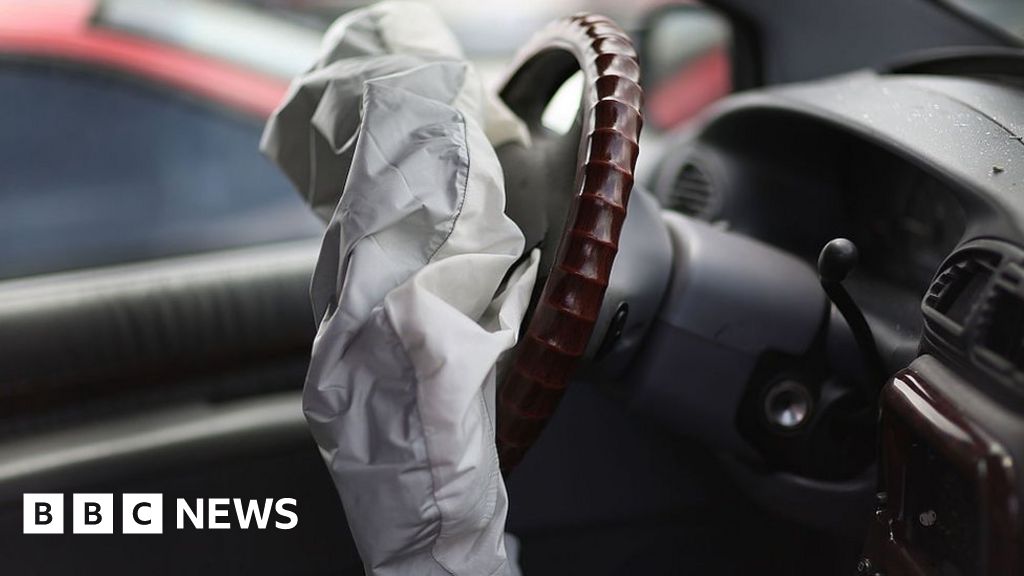 The parts manufacturer denied the request, saying investigators found no "systemic" defects.
Grandmother died in battle in Khartoum
Azhaar Sholgami tries to bury his grandmother.
The elderly woman has been dead for several days, no one knows how many. She died alone, locked in her home in Khartoum, in a vicious battle between two warring Sudanese generals.
Azhaar watched from New York, desperately trying to save her. Now she is desperately trying to restore her body.
She is not alone. Intense fighting has made collecting corpses in parts of the Sudanese capital dangerous.
Humanitarian agreement reached by the two sides in Jeddah on Friday specifically pledges to help aid workers collect, register and bury those killed in action.
"We continue to see corpses on the streets and hospitals that are closed," says Patrick Youssef, regional director of the International Committee of the Red Cross for Africa. "I hope that the new declaration of humanitarian principles will indeed make it possible to create humanitarian corridors."
Not yet, because the parties have yet to conclude a truce in order to translate their promises on paper into reality.
Azhaar's grandparents, Abdalla Sholgami and Alaveya Reshvan, found themselves in the thick of the fighting. They lived in the Riyadh area, next to the military headquarters. It has become a battlefield for two opposing sides – the army of the Sudan and the paramilitary Rapid Support Forces (SOP). Local volunteers trying to help people in need consider this a "red zone".
Mr Sholgami, a British citizen, was shot three times after leaving his disabled wife at home. Somehow he survived and now his family is trying to evacuate him from Sudan.
But there was not a word about his wife and grandmother Azhaar, Alaveya. Weeks of frantic phone calls from Azhaar didn't help.
Three days ago, she received a call from the Turkish embassy, ​​located near her home, and was told that her grandmother had died.
Azhaar didn't want to believe it.
"I called back again and said: "Maybe she is in a coma, have you checked her pulse? Have you checked her body, see if her heart is beating?" And then he tells me that her body is decomposing," she says.
"It hurts a lot to think that she was alone, without electricity in the middle of the heat – it's very hot in Sudan right now – and was woken up by the sound of the bombs."
Another woman we spoke to had an uncle Ahmad who lived in the same area. She did not want us to reveal her name because she was afraid that she might be persecuted, but she told us this story.
Ahmad's family gathered at a relative's house to evacuate together. He realized that he had forgotten his documents, so he returned to his home in the Riyadh area and never returned.
Six days later, his brother received a call from someone trying to identify the body lying in front of Ahmad's house.
The man said that Ahmad found the RSF fighters in his house. The situation escalated, he was killed, looted and left.
Neighbors wrapped Ahmad in plastic bags until aid workers arrived. They wanted to bury him right there, because there is no garden, but the family refused to have him buried almost on the street. So his body is still there, sealed in plastic.
Azhaar is still trying to negotiate with someone to take her grandmother's remains. The organization that tried on the day of the Jeddah Declaration was forced to turn back because they were caught in a firefight.
"I was very close to my grandmother," she says. "And in our last conversation before I left for New York, she said:" I'm afraid that you will leave me alone.
"I laughed at her. I said that I will never leave you alone, no matter what, I will always be there … I feel like I let her down.